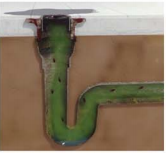 THE PROBLEM
The foodservice industry is often faced with problems with sewer and drain odours, drain flies, maggots and roaches coming from dried traps and floor drains.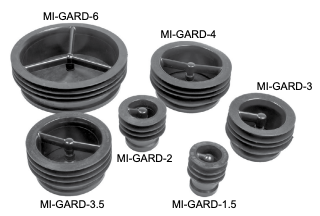 THE MI-GARD SOLUTION 
The MI-GARD floor drain trap seal is used in the outlet connections of floor drain bodies, or the inside of floor drain strainers to seal the opening to prevent odours, sewer gases, and insects from entering up through the floor drain grate. 
The MI-GARD's four flexible silicone sealing ribs ensure easy installation into openings that have variations in size. The MI-GARD will open to allow drainage and close when there is no water flow. 
MI-GARD prevents odours, sewer gases and insects from entering through the top of floor drains. 
** The MI-GARD is not intended to be used in lieu of a trap seal primer. 
The 6" MI-GARD is not IAPMO certified. The MI-GARD-6 is designed in accordance with industry standards but is not listed. 
CALIFORNIA PROPOSITION 65 WARNING: This product contains chemicals known to the State of California to cause cancer and birth defects or other reproductive harm.